Anti Inflammatory formulation with Powerful Arnica, Menthol & MSM for Joint, Tendons & Muscles
Learn More
"Best Joint & Muscle Pain Relief Rub of 2022"
"You won't have to deal with stickiness as it is non-greasy and absorbs quickly."
"Worth trying for anyone with chronic pain or for temporary soreness or sprains"
"You won't have to deal with stickiness as it is non-greasy and absorbs quickly."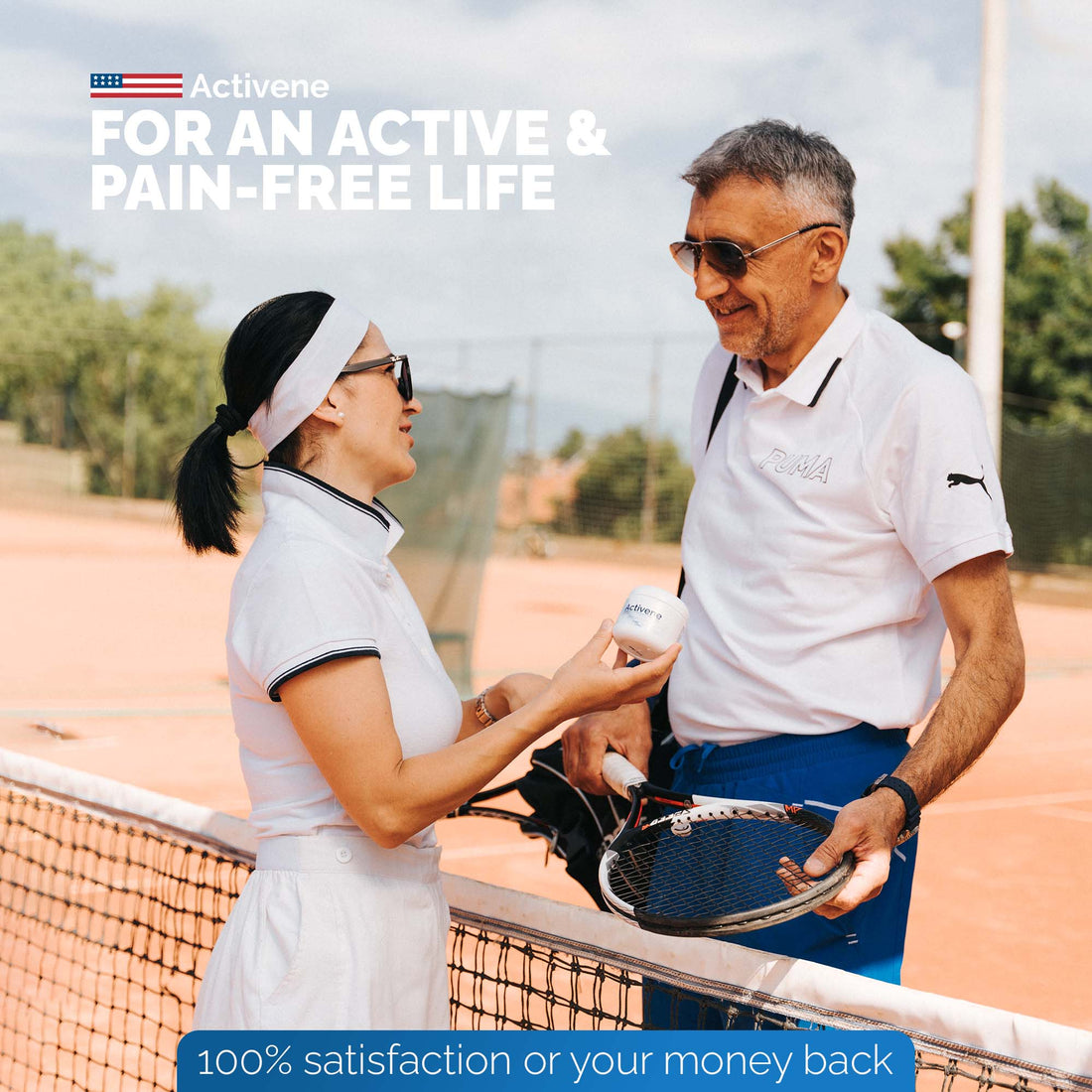 Activene Arnica Cream is a Pain Relief Cream and Anti-Inflammatory Formula. A popular choice for Muscle and Joint aches.
PROPERTIES

Activene is a light, non-greasy, non-staining cream with a refreshing mint scent. Other pain relief creams may stain your clothes and the smell can stick around the whole day. Being Aloe based, Activene absorbs very fast and the smell dissipates within 15minutes! Get back to your normal life with Activene!
DOES ACTIVENE WORK?
Activene has a proven track record of REAL people getting REAL results for a wide spectrum of pains. Just check our reviews! And if you are not happy we offer an unconditional 100% money back guarantee! You can order RISK FREE!
With the highest quality standards and registered with the FDA. Cruelty free! Ingredients include Arnica Montana, Menthol (3.7%), Aloe Vera, Tea Tree Oil, Ilex Leaf Extract, MSM, Vitamin E and B6.
Activene Arnica Cream is chosen by sufferers of Arthritis, Tendonitis, Tennis Elbow, Shoulder Pain, Bursitis, Sciatica, Shin Splints, Neuropathy, Fibromyalgia, Plantar Fasciitis, Back, Neck, Knee pain and other muscle and joint pains.
We stand behind Activene 100% and are sure you are going to love it. That's why we go far beyond Amazon's 30-day guarantee. If you are not happy with Activene within 365 days, we offer a full refund. No questions asked. Order now, worry free!
What our customers say about Activene
Middle Mi
I don't pretend to know why this works and why it works so well. Playing tennis, I often have a sore lower back and all the usual aches and pains with growing older, but trust me, it really does what it says! Very, very highly recommended!
Cindy
I read this thoroughly, and was very interested to try it out. After ordering this product, I literally Googled every ingredient in it. As the primary massage therapist for a men's Semi Pro Football team, I needed something that was still going to help them function while they healed. TI will be purchasing more in the near future. Thanks
Iwutlaoha
Wow! I am constantly getting beat up doing BJJ and MMA. At times, my joints are throbbing after an especially brutal session. The relief is pretty much instantaneous; I can not recommend this product enough. Worth every penny
Kaki
This is great stuff. It was recommended to me by a physical therapist at a rehab center and she was right. It goes on nicely and absorbs right away. The menthol scent is not overpowering and does not linger. I use it before and after rehab sessions and I feel like it odes help prevent and ease sore muscles and joints.
Gayle Irwin
I use this product to alleviate arthritis pain, particularly in my knees. It works quickly and though my cat doesn't like the smell at all, I don't mind it. Especially since it helps me so much!
Activene: Your Ally Against Pain
Experience fast, effective relief with Activene, the trusted choice for professionals and individuals battling joint, muscle, and tendon discomfort. Designed for those suffering from arthritis, tendonitis, fibromyalgia, and more.
Arnica Montana
Reduces discomfort with its anti-inflammatory properties and promotes faster healing by boosting circulation.
Menthol
Offers deep penetrating pain relief, creating a cooling sensation on the skin and acting as a local anesthetic.
Ilex Leaf Extract
Promotes circulation and improves skin condition, fostering faster healing and soothing relief.
Vitamin B6
Vitamin B6 aids in boosting energy levels by converting food into energy and supports the immune system.
MSM
MSM in Activene aids in reducing joint pain and inflammation, improving flexibility and physical function.
Tea Tree Oil
Tea Tree Oil in Activene helps reduce swelling and pain due to its natural anti-inflammatory effects.
Join Thousands Who Trust Activene for Pain Relief
Unique, Fast-Absorbing, and Effective - A Game Changer in Pain Management
What is Activene?
A Unique Pain Relief Cream
Activene is a potent, anti-inflammatory pain relief cream. Its unique formulation combines powerful ingredients like Arnica, Menthol, and MSM, providing swift relief to joints, tendons, and muscles. Its fast-absorbing, non-greasy nature and refreshing mint scent make it an ideal choice for daily use.
How does Activene work?
The Mechanism Behind Activene's Effectiveness
Activene works by leveraging the anti-inflammatory and analgesic properties of its ingredients. The cream penetrates quickly, reducing pain and inflammation in affected areas. Whether it's Arthritis, Tendonitis, or muscle aches, Activene has a proven track record of delivering real results to real people.
Who uses Activene?
Chosen by Those Battling Pain
Activene is chosen by individuals suffering from a wide range of conditions including Arthritis, Tendonitis, Tennis Elbow, and various muscle and joint pains. Its fast-acting formula and commitment to quality make it a popular choice among pain sufferers.
Why trust Activene?
A Guarantee of Satisfaction
Activene stands behind its product 100%, offering an unconditional 100% money-back guarantee for up to 30 days. Registered with the FDA and maintaining the highest quality standards, Activene is a risk-free solution for those seeking effective pain relief.
A few things you might be wondering
While individual results may vary, many users report feeling relief within minutes of application. The cream is fast-absorbing and designed to provide quick relief.
Yes, Activene is formulated to be gentle on the skin. However, we always recommend patch testing a small amount of the cream on your skin before full application, especially if you have sensitive skin
While Activene is made from high-quality ingredients, it's always best to consult with your healthcare provider before using any new products while pregnant or breastfeeding.
Activene is a non-greasy, non-staining cream. It's designed to be absorbed quickly into your skin without leaving any residue that could stain your clothes.
Activene is made in the USA with the highest quality standards and is registered with the FDA. Its unique formulation includes Arnica Montana, Menthol, Aloe Vera, Tea Tree Oil, Ilex Leaf Extract, MSM, Vitamin E, and B6. Activene is also cruelty-free and comes with a full 365-day money-back guarantee.
Arnica Cream with MSM and Menthol